Buying a Hairdryer can be a daunting process. Tons of models are available at varying prices and levels of quality. Several factors determine the best hairdryer for your needs.Buying a hairdryer can be a daunting process. Tons of models are available at varying prices and levels of quality.
A good hairdryer can be your new best friend, delivering salon-calibre blowouts every time. On the other hand, a bad hairdryer can be your worst nightmare, leaving your hair damaged, dry, and frizzy.When choosing a new hairdryer, you have to consider your lifestyle as well as your hair type and concerns. In fact, several factors determine the best model for your needs.
Choosing a Hairdryer Wattage
The higher the wattage, the more powerful the dryer and the faster your drying time. You can use a lower heat and get less damage. Whilst some hairdryers sell themselves on how hot they can go, it's much more beneficial to choose a High Power Hair Dryer.
If you have fine or thin hair, it's recommended that you blow-dry your hair at both low heat and low power to prevent tangles. A hairdryer with around 1300 W is perfect. If you have thick or coarse hair, a wattage of over 2000 is recommended for a quicker dry.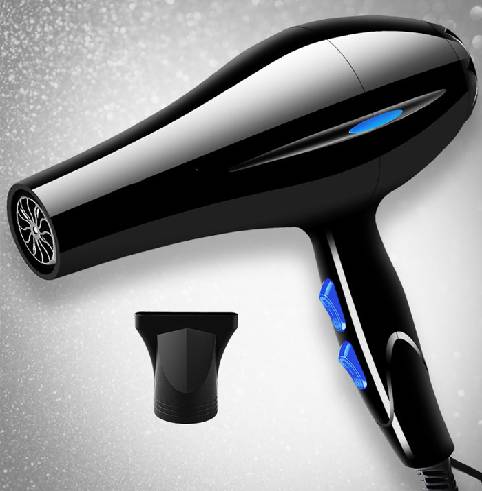 Hairdryer
Picking the Ideal Size and Weight for Your Hairdryer
A hairdryer that's comfortable for you is essential to your blow-dry routine. An achy arm will only lead to a rushed blow-dry and poor results. If you have long hair or hair that takes a long time to dry, it's worth choosing a lightweight model. The Parlux Power Light 385 gives you greater manoeuvrability and control.
If you have shorter hair or blow-dry your hair less frequently, consider saving for an average-weight dryer such as the original Parlux 3800.
We also recommend the Silver Bullet Cruise International Travel Dryer for frequent fliers, gym-hoppers, and so on.
Hairdryers With Ceramic or Ionic Technology
If you have thick or unruly hair, look for an Ionic Blow Dryerto speed up the drying process without creating extra frizz. However, these same appliances can 'over-dry' fine hair and cause it to lie limp and flat.
Ceramic hairdryers benefit nearly all types of hair with their regulated temperatures and even heat distribution. The Parlux 3800 uses ceramic and ionic technology to offer frizz-free hair and a quick blow-dry.
Extra Features on Hairdryers
Some dryers come with extras that help you tailor your blow-dry to your hair type. If you have fine hair, it's important to use a narrow nozzle to concentrate the airstream and focus on your roots for lift. Whereas for curly hair, a diffuser helps add definition.
Functions such as a cool shot button are useful for all hair types. A cool blast of air at the end of your blow-dry helps set everything in place and gives your hair a beautiful shine.
Choosing a hairdryer is a big decision and investment. It's worth sitting down and evaluating your priorities and budget before shopping. We offer a wide range of professional hairdryers, so you can pick your perfect tool.