If something goes wrong with your hair dryer, maybe you will immediately consider buying a new one. In fact, most of the faults of small appliances such as hair dryers are relatively simple, such as the hair dryer does not produce hot air, does not blow cold air, leakage, and small air volume. So, how to repair the hair dryer broken? Below, the Electric Hair Dryer supplier will introduce in detail the common faults and maintenance methods of the hair dryer.
Fault 1: The motor does not rotate in the hot air file, the heating wire is not hot and there is no cold air.


Step 1: Check whether the power supply fuse is blown, if it is, replace it. Otherwise continue below.
Step 2: Check whether the power plug and socket are properly inserted and the contact is poor.
Step 3: Check whether the power cord is broken inside, and whether the solder joints in the handle are unsoldered. (Repair or replace the power cord; disassemble the handle and re-solder the solder joints)
Step 4: Check whether the selected hair dryer switch is severely oxidized, has poor contact or whether it is broken. (Polished and wiped treatment or replaced with a new switch)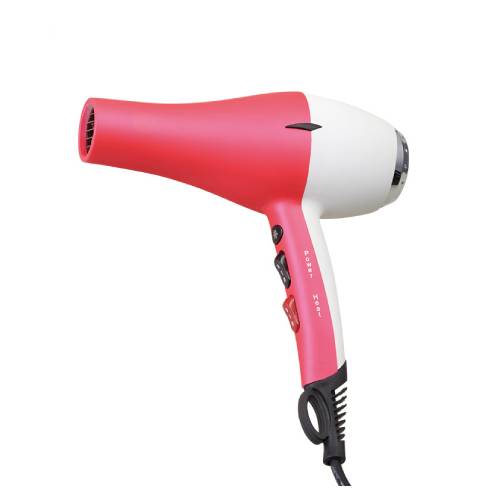 Electric Hair Dryer
Fault 2: The heating wire is heated in the hot air, but the motor does not rotate, the front cylinder is overheated but no hot air blows out
Step 1: Check whether the lead wire of the motor is disconnected or broken (replace a new wire or repair welding)
Step 2: Check whether the selector switch is black or severely oxidized (polished or change the switch)
Step 3: Check whether the motor frame or fan blades are deflected, displaced or deformed due to collision
Step 4: Check whether there is debris between the motor spindle and the rotor
Step 5: Check whether the motor spindle and rotor collide
Step 6: Check whether there is an open circuit or short circuit between the motor spindle winding or armature group (replace with a new motor or repair)
Step 7: Check whether the brushes or commutator are in poor contact or are short-circuited from commutation
Fault 3: The motor is running in the hot air file, the heating wire is not hot, only cold air blows out
Step 1: Check if the lead wire of the heating wire is disconnected or broken
Step 2: Check whether the selector switch is in bad contact
Step 3: Check whether the screw fixing the heating wire is loose or excessively oxidized and poor contact
Step 4: Check if the heating wire is burned out, update the heating wire or try to connect it
The first step: carefully observe whether the motor winding is damp (drying)
Step 2: Check whether the motor winding is aging and the insulation strength has decreased (replace the motor or winding)
Step 3: Disassemble the motor and check whether the windings are damaged or the shell is bumped
Step 4: Check whether the lead wire is damaged or not (change the wire)
Step 5: Check whether the heating wire touches the shell
Fault 5: The amount of hot air blown out is too hot
Step 1: Check whether the air inlet is too blocked
The second step: Check whether the fan blade has slight friction with the shell, which slows down the speed
Step 3: Check whether the bearing is too tight
Step 4: Check whether the spindle group or armature winding is partially short-circuited
Step 5: Check whether the electric brush is under pressure
Learn this, your hair dryer can also become a High Quality Hair Dryer