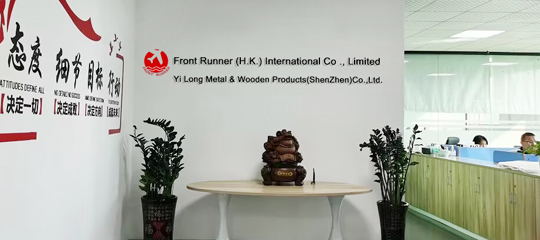 OEM and ODM services | Technical support service

Custom Products & Design's Manufacturer

Any Challenging Products Inquiry Welcome


* Front Runner is a comprehensive manufacturer & exporter

* Front Runner specialized in custom products & 100% custom order export

* Front Runner is vertical supplier chain - factory & trading department integration

* Front Runner get involved in the namufacturing ourselves with 2 divisions


The manufacturing plant is located in Dongguan & Hunan City, China. We are manufacturer & specialized in manufacturing customization orders. However it is OEM or ODM products, all orders are according customer's requirements to produce and control the quality.

To make sure arrange all shipments safe & smooth, our professional sales & export office strategically located in Shenzhen, China. Only 10km away from Shenzhen Airport & only 45 minutes around away from Shenzhen marine export ports.


Specilized in a wide range of products:
Accent Furniture for the living room, bathroom, kitchen, bedroom,and entryway furniture such as coffee table, tea table,end table, console table,kitchen island,night stand and bedside cabinet & table.
Kids, children and baby care furniture.
Household Items: wooden coasters, wooden serving trays, candle holder, flower stand, and so on.
Wooden boxes for watches and tissue, and other kinds of storage boxes.
Board Game: Wooden game boxes, and board game sets.



OEM & ODM available


Factory certified with Sedex, and FSC. and also passed major US and European customers' factory audits. E1, P2,EPA,TSCA,CE, RoHs,Reach materials are available according to customer's needs.

The in-house R&D department could also work together with customers on their projects. We have experience in cooperation with designers for some complex material products that makes our teamwork flexible, that helps for assisting customers to achieve manufacturing solutions.

Inquiry & Visit us
We welcome any product inquiries, price comparison, or technical support inquiries. We will reply you with timely fashion and utmost professionalism. Earning your trust, will be our first priority before you consider us as a business partner. We take "Being Reliable" as our motto, and that, is just what we intend to do with you.